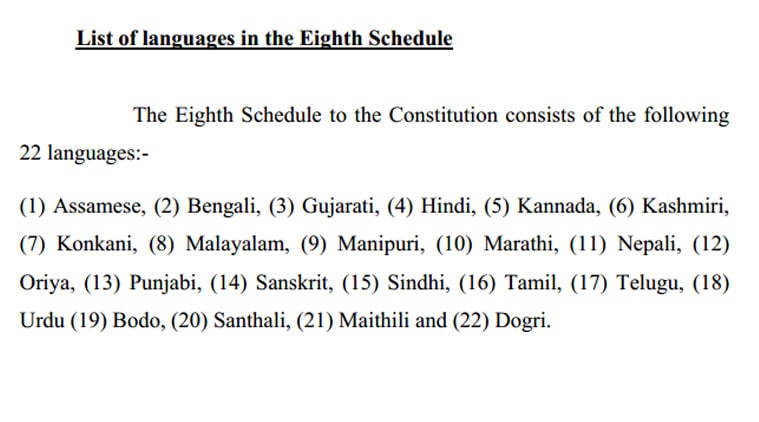 Complete list of languages (Source: mha) Meghalaya has launched a vigorous move to get the Eighth Schedule status for Khasi, one of the three major languages spoken in the hill state, with an expert committee preparing a dossier for the state legislative assembly to push for it in New Delhi.
The 12-member expert committee constituted by the state government has been working overtime to leave no loophole in order to convince the government of India on taking a final decision on inclusion of the Khasi language in the Eighth Schedule, eminent Khasi literature and Sahitya Akademi member said on Monday. The committee is meeting in Shillong Wednesday.
"Khasi as a language is spoken by over 12 lakh people and has a rich literature. Though it is written in the Roman script, Khasi is a fit case for recognition under the Eighth Schedule," Lamare, also a leading campaigner for the language, told The Indian Express from Shillong on Monday.
He said that once the expert committee recommendations are ready, those would be placed before the state assembly for taking up the issue with the government of India in a systematic manner. Lamare, who is also principal of St Edmunds' College, had earlier said that the Khasi-speaking people would have to otherwise resort to an agitation in order to get the Eighth Schedule stamp.
A branch of the Mon-Khmer family of Austro-Asiatic stock, Khasi language was first written in the Bengali script in 1813, with the first printed book – the Khasi New Testament – coming out in 1923. Since 1848 however the language has been written in the Roman script. The first Khasi newspaper, a monthly called 'U Nong Kit Khubor' was published in 1981 by a British officer called William Williams.
"Right now, Khasi is a medium of instruction up to Class V, but the North-Eastern Hill University (NEHU) also accepts PhDs in the Khasi language, Lamare said. Over 50 PhD works meanwhile have documented various aspects of Khasi language and literature," Lamare informed. Rich in folklore and folktales, there is a story in the Khasi language behind names of most hills, mountains, rivers, waterfalls and forests of the eastern part of Meghalaya where the language is spoken.
While Khasi was recongised by Gauhati University the very year it was established in 1948, Dibrugarh University, Council for the Indian Certificate of Secondary Education, New Delhi, and North Eastern Hill University have also accorded similar recognition to it.
"It is a long-pending issue. The Khasi community has been pressing for it since 1971. That Khasi is a fit case for recognition under the 8th Schedule is best proven by the fact that the Sahitya Akamedi has already conferred Bhasha Samman on several Khasi authors," said Adelbert Nongrum, chief executive member of the Khasi Hills Autonomous District Council. If Bodo, Konkani and Manipuri can get the 8th Schedule status, there was no reason why Khasi should be deprived, he said.